Skip to Main Content
It looks like you're using Internet Explorer 11 or older. This website works best with modern browsers such as the latest versions of Chrome, Firefox, Safari, and Edge. If you continue with this browser, you may see unexpected results.
About The Round House
The Round House won the National Book Award for fiction. One of the most revered novelists of our time -- a brilliant chronicler of Native-American life—Louise Erdrich returns to the territory of her bestselling, Pulitzer Prize finalist The Plague of Doves with The Round House, transporting readers to the Ojibwe reservation in North Dakota. It is an exquisitely told story of a boy on the cusp of manhood who seeks justice and understanding in the wake of a terrible crime that upends and forever transforms his family.
Riveting and suspenseful, arguably the most accessible novel to date from the creator of Love Medicine, The Beet Queen, and The Bingo Palace, Erdrich's The Round House is a page-turning masterpiece of literary fiction—at once a powerful coming-of-age story, a mystery, and a tender, moving novel of family, history, and culture.
SOURCE: HarperCollins Pubishers
About Louise Erdrich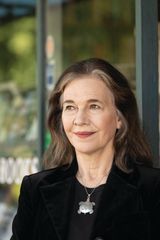 Louise Erdrich is the author of fifteen novels as well as volumes of poetry, children's books, short stories, and a memoir of early motherhood. Her novel The Round House won the National Book Award for Fiction. The Plague of Doves won the Anisfield-Wolf Book Award and was a finalist for the Pulitzer Prize, and her debut novel, Love Medicine, was the winner of the National Book Critics Circle Award. Erdrich has received the Library of Congress Prize in American Fiction, the prestigious PEN/Saul Bellow Award for Achievement in American Fiction, and the Dayton Literary Peace Prize. She lives in Minnesota with her daughters and is the owner of Birchbark Books, a small independent bookstore.
SOURCE: HarperCollins Puiblishers